Longworth Chuck
My version of the Longworth chuck. I made it to mount on the Talon chuck. The pins are 3/4" tube stoppers I found a a medical supply house. I have made them from 1/4" BB plywood front and back. I made another set with 1/2" plywood back and don't see a lot of difference in how stable it is. Then I used 1/4" carriage bolts with the wingnuts. I used washers on the back side under the nuts, but found on the front it was better to let the rubber pull down into the slots. This seems to give a better tighter fit of securing the bowl to the face plate. These are good to use to finish off the bottom of a bowl , but I would not recommend them for heavy turning. Here is a PDF of the pattern.
I stack cut the two discs and drilled the hole in the center. Then I pulled the pattern off and used the center spigot pattern again to put on a piece of hard maple. Drilled the hole in the center then cut the outside circle. Then I put the bolt into the spigot and chucked the bolt into the lathe and turned the shoulder on the spigot. Then glued the spigot onto the disc using the bolt to center everything.
Another note I might add. On the pattern the slots are 1/4" . When you cut them put the kerf of the blade on the outside of the line. The slot needs to be a little over 1/4" for the bolts to slide easily in them and the double kerf width of a 5R blade, two kerfs one on each side of the slot, seemed to work out just right.
Some larger diameter chuck files : Larger : Larger2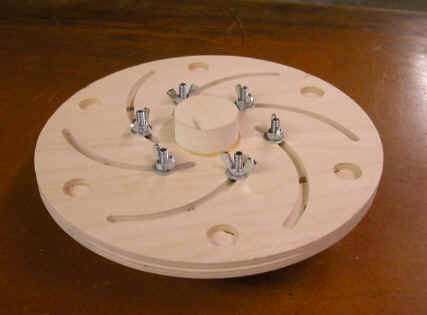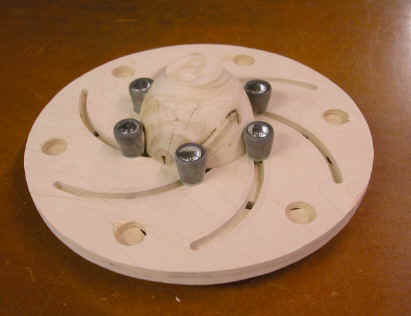 Here are some other pages you might find interesting about building and using the chuck.

http://www.woodline.com/instructions/Longworth.pdf
http://www.woodcentral.com/articles/turning/articles_485.shtml#top