Hand Operated Saws

Available from Hobbies of England yet today. This is the hand frame saw, and comes with the drill, drill bits, c-clamp, sawing block. All ready to hand saw those projects.

A Dremel hand held electric saw. This was made in the 40' would be my guess.

A couple of Dremel's with the original boxes.
A couple of old Dremel saws. The first one has the price on the box $8.95 , so these saws were fairly low priced when new.

A Trojan hand held saw.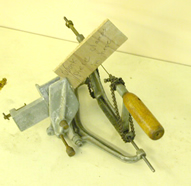 A hand frame saw mounted on a guide setup. The whole unit clamps to the table then to wood is clamped into the saw. The saw itself has a chain drive to keep the blade clamps aligned with each other. Then the saw can be turned any direction to make your cut, but the saw is always held perfect perpendicular to the wood.
Next CONTINUED ON NEXT PAGE