Play Toy Saws

A kit currently being sold. It is powered by 4 D cell batteries. The saw will cut the balsa wood that came with it, but won't cut 1/8" Plywood. It also converts to a drill, lathe, and sander.

A plastic toy saw made in the early 60's. The saw runs on 2 D cell batteries. It came with the plastic letter templates and a couple of animal templates.

Another plastic toy saw , different vintage than the one above.
Made by Mattel . This was a scroll saw, wood lathe, sander combination. Made in the late 1950's.

Another SaftSaw in the box and complete paperwork with it.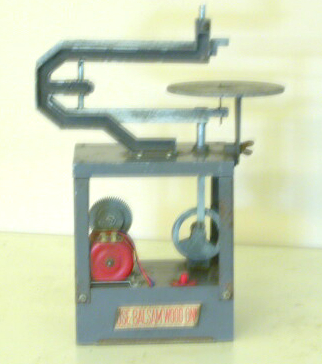 Small battery powered saw. Tag on the bottom says Rosko tested.
Next CONTINUED ON NEXT PAGE